Doing business in the US
Shipping to the USA? Being internationally successful depends on more than just you and your clients. You have to understand your target market as each country has its own culture, rules and restrictions. If you are interested in business facts or want to familiarise yourself with the different commercial practices, customs rules and economic sectors, keep reading …

Discover the United States of America with DHL Express!
Shipping to the USA
The 50 stars on the flag stand for each federal state. 48 states form the continental United States. Alaska and Hawaii do not share any borders with another US state. In addition, some Caribbean and Pacific islands  are part of the US territory. After China and India, the US is the third largest country in the world in population. Coincidentally, it is also the third largest country in area, after Russia and Canada.
The United States owns many natural resources. The country holds 20% of all coal, 24% of all natural gas and 13% of all petroleum reserves in the world. Main oil fields are located in the Gulf of Mexico, Alaska and Texas.
The US exports mostly motor vehicles, aircraft, electronics, industrial machines, chemical products and consumer goods. Important import products are oil, machinery and vehicles. Another important sector takes place online. The US e-commerce market offers a big opportunity for any business. The 2022 forecast expects 17% of all retail sales to be online sales.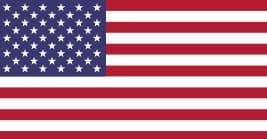 Did you know that DHL started in the United States? In 1969 three businessmen from San Francisco began transporting customs documents by plane. Therefore, we have a strong local network and can help you develop your business with the US. We safely deliver your important packages and documents to any destination. Simply ship to cities like New York, Los Angeles and Chicago. Go ahead, we even cover the most remote areas!
Discover more about international shipping on our news page!