Doing business in Spain
Shipping to Spain? Being internationally successful depends on more than just you and your clients. You have to understand your target market as each country has its own culture, rules and restrictions. If you are interested in business facts or want to familiarise yourself with the different commercial practices, customs rules and economic sectors, keep reading …

Discover Spain with DHL Express!
Shipping to Spain
Spain, on the Iberian Peninsula, has 46.6 million inhabitants. The country covers an area of ​​505.992 km². In addition to the mainland, islands in the Mediterranean and the Atlantic Ocean as well as exclaves in North Africa belong to the country. Four official languages are spoken in Spain: Catalan, Basque, Galician and Castilian Spanish.
Blessed with a beautiful coastline and sunny weather, Spain attracts many tourists. Another important sector for the Spanish economy is agriculture. You probably tasted the delicious fruits, olives and nuts you can find in many European supermarkets.
The economic crisis has hit the country severely due to the collapsing housing market. Spain still struggles with an high unemployment rate. In addition, forecasts show a slow recovery. Nevertheless, Spain continues exporting a variety of goods like vehicles, oil and fruits. Spain mainly exports its goods to countries in the EU. Among its biggest trading partners are France, Germany, Portugal and the UK.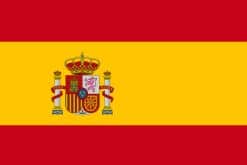 DHL Express can help you to develop your business within Spain. Due to our strong local network, we safely deliver your important packages and documents to any destination. Simply ship to cities like Madrid, Barcelona or Seville. Go ahead, we even cover the most remote areas!
Discover more about international shipping on our news page!